Mindful Jewelry Designer is Offering DIY Jewelry Kits
Great Activity for You and Your Kids
By Ellen DeFrancesco, Publisher of Macaroni Kid Long Beach-Oceanside-Rockville Centre, NY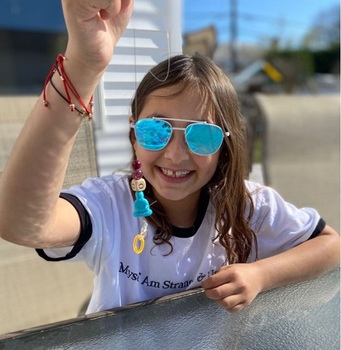 I know, I know. There are only so many videos, games, virtual tours or movies you can watch with your kids. Here's a creative, unique and fun idea from a local jewelry designer. Jen of Jen Stock Designs is offering these DIY jewelry design kits which can be a great activity, birthday gift or the perfect way to say I love you on Mother's Day (hint, hint). I'm sure you're all like me who treasure our homemade Mother's Day gifts so much more than the usual store bought.
Each kit comes with a sturdy beading wire with a clasp and end ring attached. Included are more beads than you can use and ideally enough to spark your creativity! You can ask for specific colors or they can come with an assortment of each if you don't have a favorite. The stones (semi-precious, wood, cloisonné, etc.) are unique and from Jen's incredible collection. Jen Stock is a critically acclaimed jewelry designer known for spiritually inspired jewelry, all of which is handmade and weaves together elements from around the world with symbolic pieces that represent the balance between mind, body, and soul.
A sheet with instructions is included. You can finish it yourself with a sterling silver end crimp bead which is included in your kit by using a small needle nose plier or you can tie it off. If you'd rather have Jen finish it off for you, you can send it back to her. 
This is a super fun activity but don't take my word for it: 
Dara says, "So much fun!!! What an amazing time we had "Bonding over beading". My kids didn't want to stop and were actively engaged in the artful methods of beading beautiful creations!!!! Jen was so easy to work with, she individually hand curated kits for me and my boys based on our favorite colors and likes. Each kit came with a large assortment of beautiful, high quality beads and pendants and we were having fun from the moment we opened our packages until the moment we were done. Now we have beautiful, unique, one of a kind creations that we made through the help of Jen Stock Designs! I can not thank you enough for giving my family a moment to unplug, unwind and be creative together!! I will certainly purchase again!!!!
The kits range from $15 per kid to $40 per adult.
Click HERE for more information.
See the full article on Macaroni Kid.
---